Algorithms supporting procurement – procurement bot Hank has been born!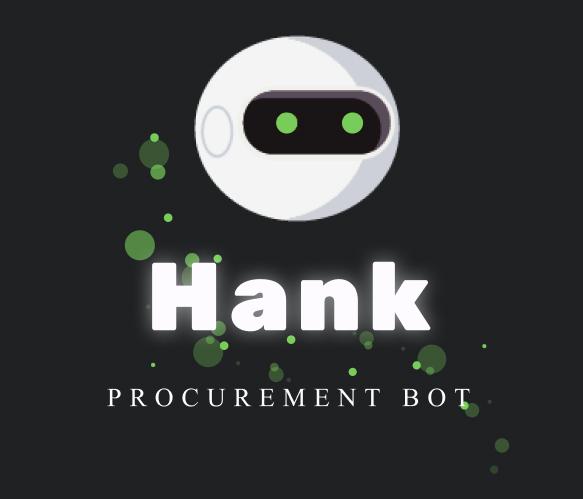 Have you ever wondered if you could use data to solve the most difficult issues in the procurement process? Or could the software bot perform some routine tasks in the procurement process or even assist in doing them? Or could the software robot guide you through solving the most common issues related to your purchases, so that you would have more time?
We at PTCServices Ltd have been thinking about this a lot lately. The kick-off for more in-depth reflection was set by the speeches which were delivered in the last Public Procurement Forum back in November.
Difficulty in setting the comparison criteria and weights
During last year's Public Procurement Forum, our expert Tapio Lahtinen explained the impact of the comparison criteria on the outcome of the competition. The subject was one of the topics of interest, and it had been discussed earlier in our current forum. Keeping the comparison criteria as a long-time favorite topic is no wonder, since setting comparison criteria for quality has been one of the most challenging issues in the procurement process.
 Exploiting software robotics and artificial intelligence
At the Public Procurement Forum there was also discussed the use of software robotics and artificial intelligence. The topic was introduced by VTT's Senior Scientist, Ph.D. Jukka Kääriäinen and leading researcher Anu Seisto. The speech was especially reminiscent of the fact that artificial intelligence, software bots and digitalisation are becoming more common, and tools are available for mapping these potential uses. Now we just need the courage and desire to take a step towards the future.
The procurement bot Hank is born
At the end of the day the heads were full of new ideas. We wondered what could be the next step? What would be ambitious enough? Is the technology well utilized in law? Are decisions based, for example, on setting comparison criteria and their weights on data? Could the procurement handbook be based on algorithms? How can technology around us be utilized in law and procurement?
We decided that we had to create something completely new. As a result of this deliberation, we have created our newest  breakthrough.- a procurement bot called Hank. 
Do you want to take advantage of Hank's expertise?
Hank is now only two months old, but already knows about Public Procurement Act and how to simulate the bidding results. Hank can recommend you a procurement process, calculate how much money in Europe goes into procurement and how to get innovations. Hank helps to determine what the smartest weights for quality would be.
Our new employee Hank will certainly be part of many projects. Yet we do not have exact knowledge what Hank gets to do in the future.
The procurement bot Hank was only in front of the public for the first-time last week. We are also interested in your vision. What part of procurement process do you think Hank should study?
Maybe Hank could be your new procurement handbook or could calculate the best deals for you?
If you want to know how you could take advantage of the expertise of Hank, contact our CEO Saila Eskola, saila.eskola@ptcs.fi, or expert Jussi Pyykkönen, jussi.pyykkonen@ptcs.fi, for more information.
Here you find  more information of Procurement bot Hank.
Learn more about PTCServices Oy.
Tags:
artificial intelligence
bidding results
bot
digitalisation
Public Procurement
robotics